We are excited to bring you another inspiration of the month. After great response from
Amit's health focused inspiration
last time, this June we bring you:
Praval Singh, as a part of our project where we seek inspiring conversations and people
.
Praval started off as an entrepreneur almost through college itself- which also wasn't as smooth as one would imagine, ran a profitable internet business for nearly 4 years and then as a mature young decision even before hitting 30, did something new again.
Read more to know why he inspires us!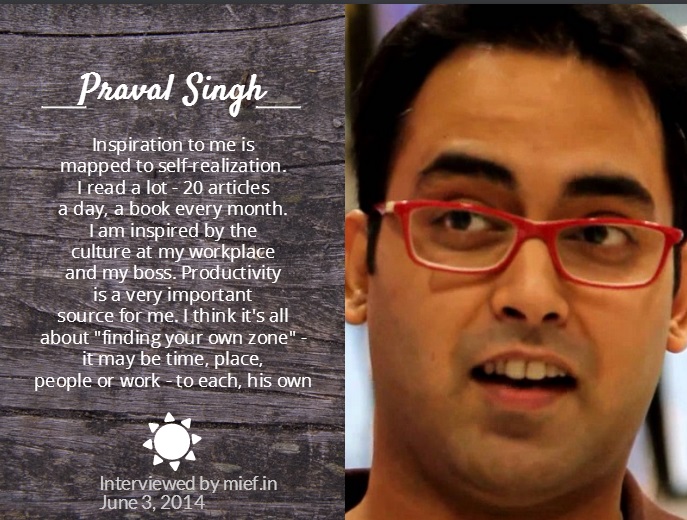 1) Usually in India we tend to wait out till we finish Engineering to start finding out what we want to do (read this somewhere recently). What enabled you to start sooner?
You're right! In an engineering college, we're not prepared to take a plunge. We're prepared to "finish" the course and then, get a job. Also, the course structure is such that the focus is on getting as much information as you can, not really on HOW you plan to use what you've learnt so far. I am not really against college education and I don't advocate "dropping-out". Going to a college makes you understand people, prepares you to appear in exams (I like the adrenaline it gives you), it helps you in "growing-up". I was always an above average student and never bothered too much about my grades. One thing that helped me start working early was the Internet. It was pretty early when my horizon expanded over and above the priorities of an average engineering student. My area of interest was very different from my peers and I was always the curios and anxious mind. The other factor was my parents – they were never against me doing interesting things. Of course, only as long as I wouldn't flunk! Having said that, today, there are far too many students who do "real" work, while studying.
2) Digital careers seem to be a growing 'fad'. What's your key advise to young people wanting to getting themselves in this field?
Be it Paperback to Kindle or Nintendo to PS4, if you look back, digital is growing too fast too soon! But to make it a career is something that's subjective, I'd say. If you're really passionate about how 'digital' is changing things and you wish to be a part of the change, there's nothing stopping you. But in the past several years of interviewing candidates, I've come across a majority of graduates who wish to be in the 'digital industry', just because they think it's cool. They take a while to understand that that's not how career paths are paved. Also, 'digital' is a vast conglomerate and one needs to find his/ her own class.
3) On a daily basis, how do you inspire yourself? And what tips would you give other young people to not give up and keep at it?
Inspiration to me is mapped to self-realization. I constantly aim to keep my mind in tune with my body (and I know I have miles to go that route!). Apart from that, I read a lot – as many as 20 articles (not news) a day and try to finish reading a book, every month. For work and career, I am inspired by the culture at my workplace and my boss, to a large extent. I take pride in being associated with the organization and I find this motivational.
Productivity is a very important source of inspiration for me and I think it's all about "finding your own zone" – it may be time, place, people or work – to each, his own. I work in insane timezones and I still manage to sleep for good 8 hours a day. That's another thing that inspires me to do more!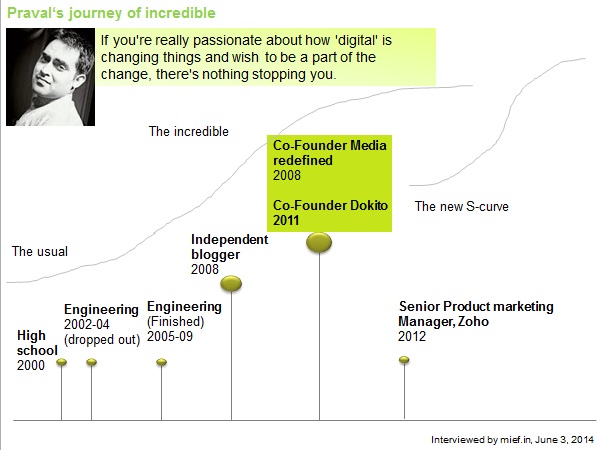 4) In your own mind, what's your greatest achievement so far?
I can think of 2 at the outset! The first one was to go ahead and finish graduating when I almost gave up (and dropped out!), because I took it as a challenge. The other was the fact that I took a plunge to start a business with two friends I made on the Internet! When I look back, it seems so amazing how we met and pulled off a profitable business together for 4 years, before "finding our own zones". The best part is – we're still as close as we were 5 years ago. May be more! I owe a lot to them and I will always.
We would like to thank Praval for taking time out for sharing his insights with us and being our inspiration of the month. We wish that all you young people out there feel just as inspired as we are. After all, what's more inspiring than seeing a real graph of a young person gone through a struggle and still come out topping his game in an incredible fashion!