A new milestone has been noted in our ongoing project and mission to revive the Sharada Script. As described before, MIEF along with the Department of Sanskrit Studies, JNU is currently organizing Sharada Script Revival learning for scholars and interested learners in Mumbai University (5 day programme from November 6th to November 10th). Mumbai University joined hands to revive the Sharada Script revival formally and an agreement of cooperation (AoC) is being now signed with MIEF. The two Universities (JNU and Mumbai) will now work together and collaborate further in this mission for capacity building to revive the near extinct script.
The current workshop in Mumbai with a Millennium India Education Foundation  and the Sanskrit Department of JNU, Delhi, to revive  extinct Kashmiri Script Sharada by organizing 5 day workshop in the university campus. The 5 day workshop has been organised to train interested students including Kashmiri youth, researchers and Sanskrit scholars on Sharada script. This is being done by making Sharada cultural learning and research accessible to young people and interested scholars, helping create a resource base through documentation of important literature and resources in Sharada script and creating a common platform for researchers and scholars.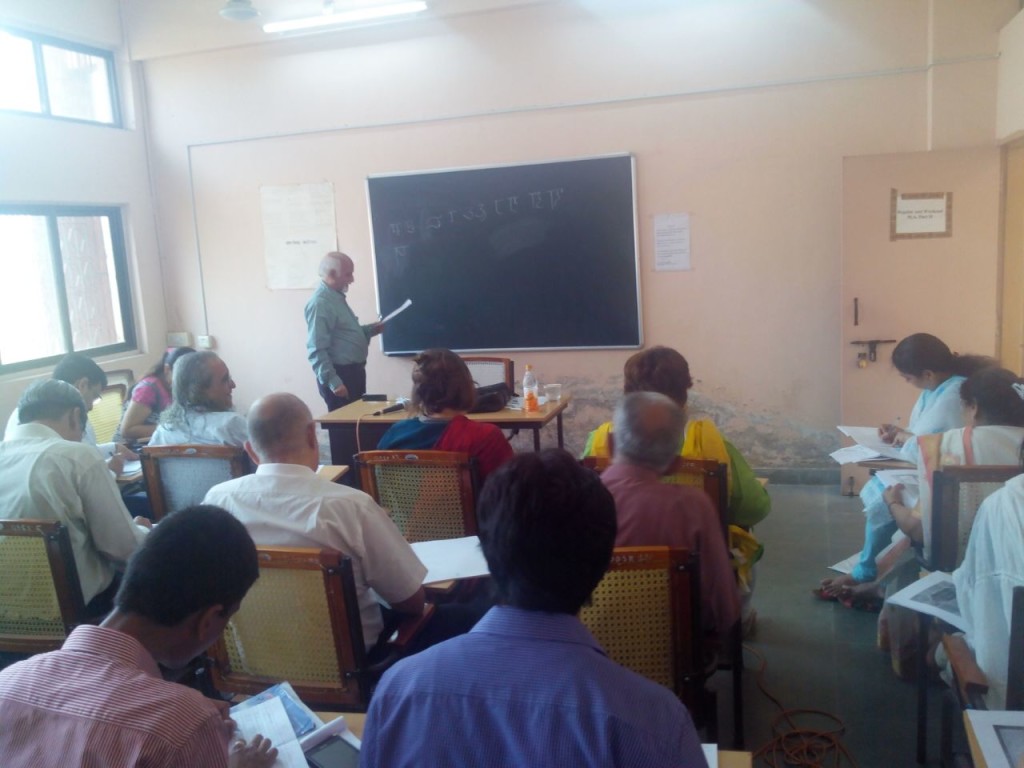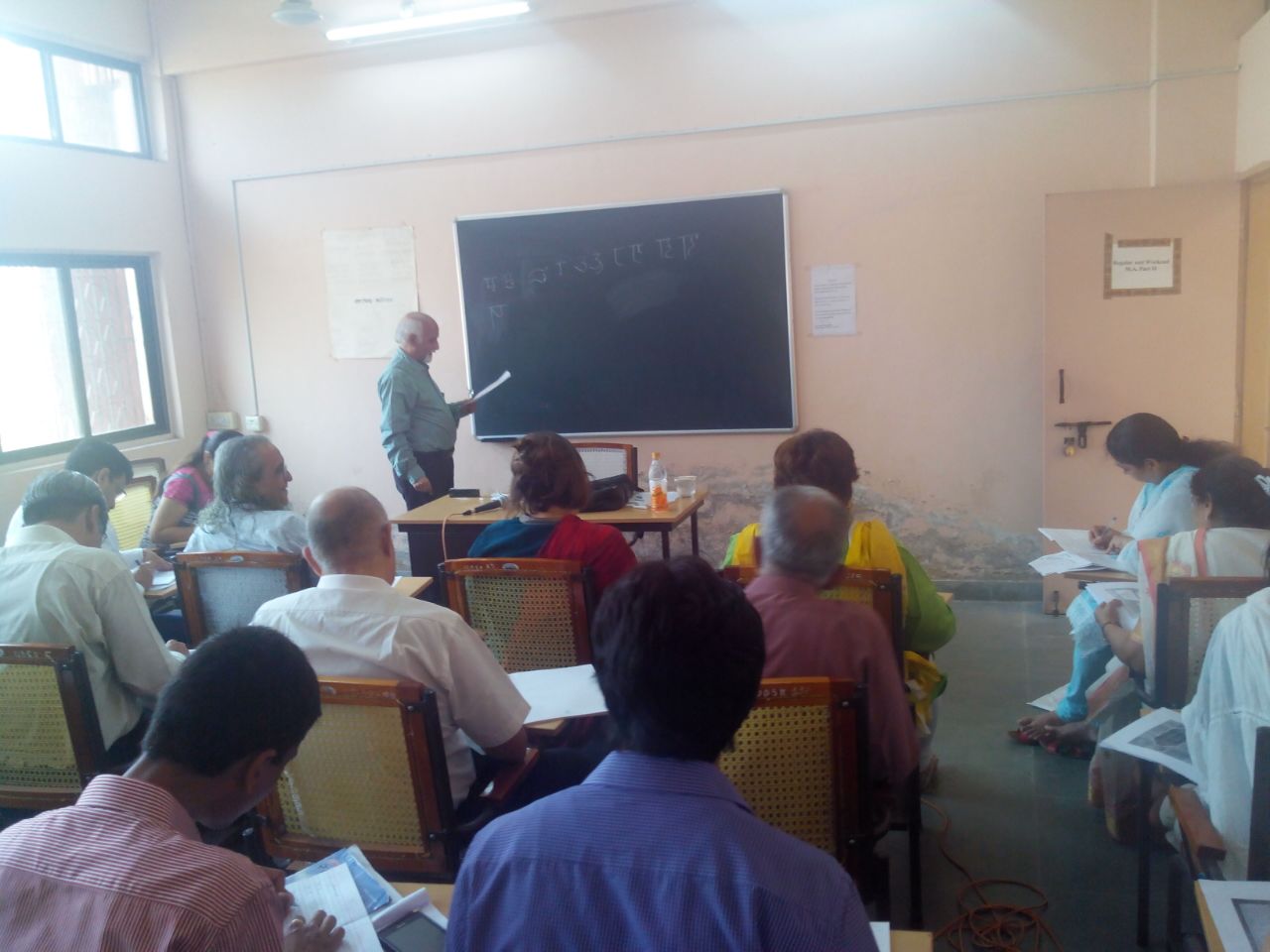 The workshop was inaugurated by Dr. Rao, Vice Chancellor Mumbai University, Dr. Gauri Mahulikar, Professor & Head  of Sanskrit Department, Mumbai University, Professor Girish Nath Jha, JNU university, New Delhi, Dr. K. K. Sharma from IGNCA (Indira Gandhi National Centre for the Arts) were other guests at the inaugural function.
Addressing the audience Dr. Kakroo, Director MIEF said that preserving the Sharada script was in line with the MIEF of aim of connecting communities and creating a culturally rich world for future generations. The main questions that prompted MIEF to consider this project were:
How should Kashmiris, especially Pandits value their roots and find the connectivity in spite of being outside the physical confines of the valley?
What language and culture do we teach our children?
How do we show our children the richness of our culture?
JNU's interest in the script is primarily because a large number of Sanskrit manuscripts exist in Sharada which the language technology group at the center is keen to digitize. Sanskrit Department, Mumbai University is keen on researching these manuscripts and in addition create environment for further studies on Sharada through e-learning software applications and relevant e-content.
The  Sharada script which has evolved  from Brahmi script around 9th century A.D, was the principal script of Kashmir until the 20th century and covered a vast region extending from Afghanistan in the north-west to Delhi in the south-east. It remained in popular use for several centuries in an extensive area of Western Himalayas including North Western Frontier Province, Dardistan, Kashmir, Jammu, Ladakh and Himachal Pradesh. Almost all the ancient Sanskrit literature of Kashmir is written in this script. There are many references in Sanskrit literature about Sharada Desha.
Dr Gauri Mahulikar Professor & Head of Sanskrit Department, Mumbai University said that their department is working on translating manuscripts written in various scripts which are almost non-existent now and Sharada is one of these. She made clear that her department would be collaborating with MIEF to  conduct capacity building programs  at regular intervals in the University to raise awareness and also interest that would lead to revival of this ancient script.
Dr. Girish Nath Jha Associate Professor at Special Centre for Sanskrit Studies and coordinator of the Sharada initiative at Jawaharlal Nehru University reiterated that JNU has entered into Agreement of Cooperation (AoC) with MIEF to promote cooperation in education and academic research, in the Sharada Script which is virtually extinct script and needs immediate revival through capacity building and digitization of ancient scripture written in this script.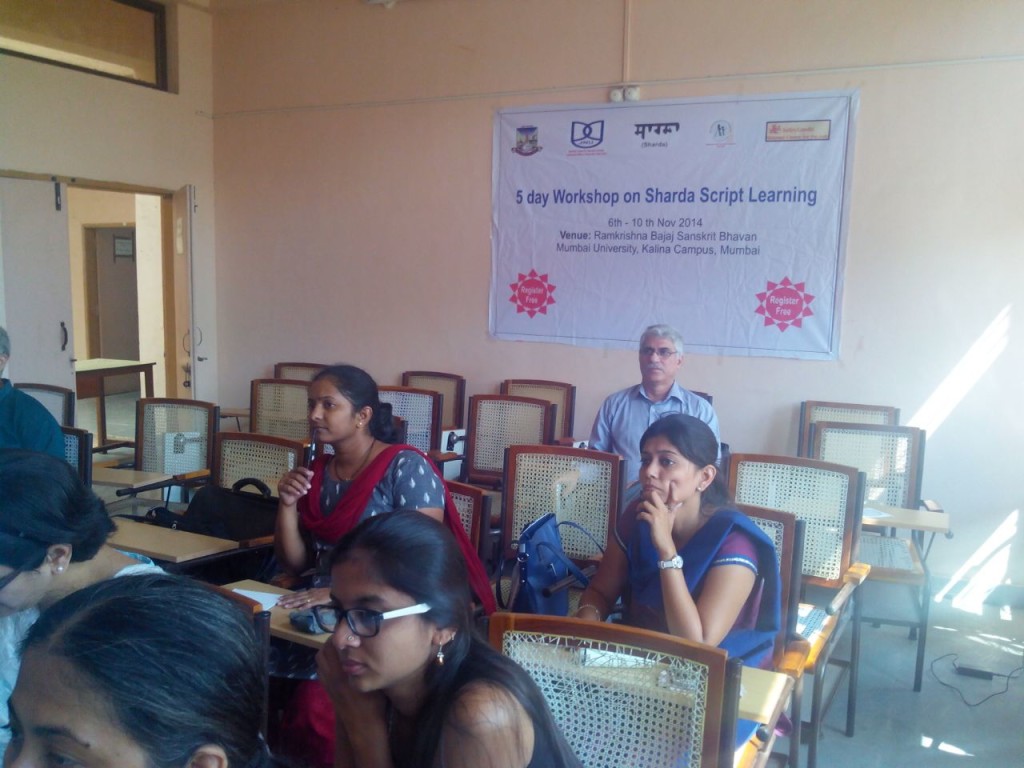 In the current workshops, 75 participants from different streams of education which included Sanskrit scholars, Kashmiri linguistic experts, researchers and Kashmir Youth are attending this 5 day workshop which is the first in a series of training workshops that this joint venture project between Mumbai University and MIEF would be undertaking in coming months.
MIEF is also in the process of collecting documents written in Sharada script that lay untranslated in different libraries across the world for developing a document base for the script.