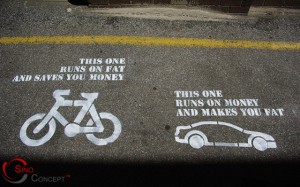 You Decide!    via
Taking up cycling could be one of the wisest choices you ever make, be it for any reason: fitness, bank balance, or environmental concerns. You could take it up for commuting or for recreational purposes, and there are numerous good reasons to convince you for that.
Zero carbon footprint
Economical
In metro cities, with huge traffic jams, cycling could be a faster mode of commute than motor vehicles
Most energy-efficient form of transport
Burns calories
Reduces stress
Increases stamina
Promotes cardiovascular health
Easier and cheaper parking
No noise pollution
Reduces road accidents
Lastly, it's fun!
Unfortunately, in the present scenario, cyclists are being edged out of Indian cities to make way for cars. Despite the fact that the cycling class has a laudable role in the growing Indian economy, many upper class Indians, safely holed up in imported cars, see cyclists as nuisances. So do policemen, who often harass cyclists from poor families. There is a dire need to promote cycling in our country. Across the world, other cities are encouraging cycling instead of throttling it to death. So should be the picture in India. We should learn from such nations and do our part as individuals, only then will something change at the national level.