A 3 day workshop on Sharada Script Learning commenced in JNU New Delhi on 16th October 2015. This is the 4th Sharada Lipi workshop organized in JNU (6th in the series). The special Centre for Sanskrit Studies ,Jawaharlal Nehru University, New Delhi has jointly worked with Millennium India Education Foundation as part of an AOC signed by these two organizations in 2013.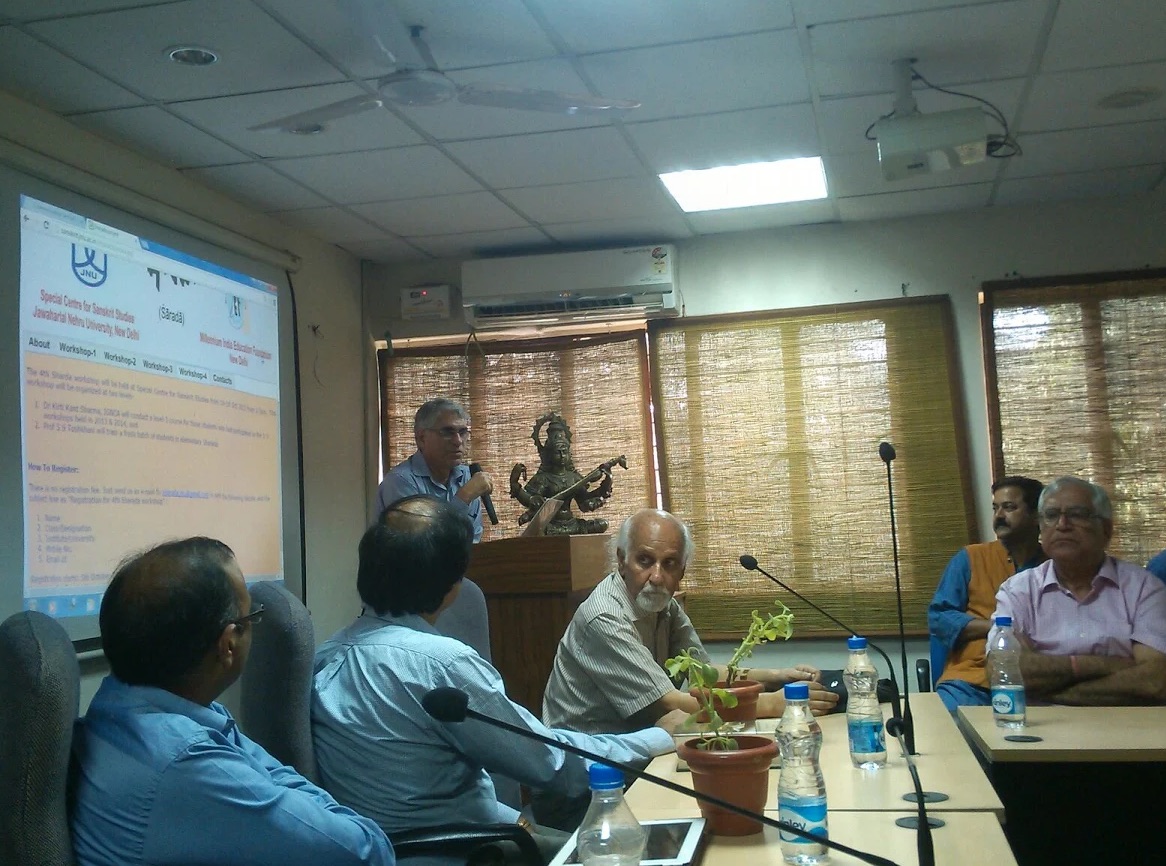 59 scholars representing JNU, Lal Bahadur Shastri Sanskrit Sansthan New Delhi, IGNCA and other scholars in their individual capacities took part in this workshop. Of these twenty three scholars are attending the workshop in JNU for the 4th time .
The workshop was inaugurated by Prof A Mishra Director Central institution of Indian  languages Mysore, Government of India .  Speaking on the occasion professor Mishra said that his centre CIIL is working on the proposals to help institutions carry on their work on the revival and restoration of endangered scripts and languages like Sharada Script.
Dr Kakroo, Founder & Director, MIEF said that they will be soon starting weekend classes for teaching Sharada in Delhi . Besides this, MIEF is working on short listing manuscripts which would be given to these trained Sharada scholars for translation with an objective to revive the vast knowledge hidden in these untranslated Sharada manuscripts to people and research scholars worldwide.
Professor Girish Jha informed the participants that his department has developed a Sharada font which would be soon made available to the interested people to write Sharada alphabets on computers .
The workshop was held at  two levels-  one advanced Sharada script learning ( e.g. grammar/ making sentences) etc. for previously trained scholars and a level 1 workshop ( teaching the Sharada alphabet) for freshers. Dr. S.S. Toshkhani renowned Kashmiri linguist and Sharada expert & Dr. Kirti Kant Sharma, IGNCA researcher and expert in a number of scripts and Indian languages conducted these classes.  The resource material being used in this workshop has been developed by Millennium Indian Education ​Foundation.
We are happy to note that the workshop was covered by media as well, to pass on the message to the interested people in different parts of the country.