Some of you already know that MIEF recently held another addition of the Zoonosis conference last week. We saw great support for the conference, as it was also covered on DD national sharing the views with a broader audience. (So COOL! :)).
The daylong conference is organized annually by Millennium India Education Foundation, Heart Care Foundation of India, ICAR Ministry of Agriculture & Cooperation Govt. of India to commemorate World Zoonosis Day. 150 participants from medicine, veterinary sciences, MSWs and people directly involved with animal care attended this year's conference.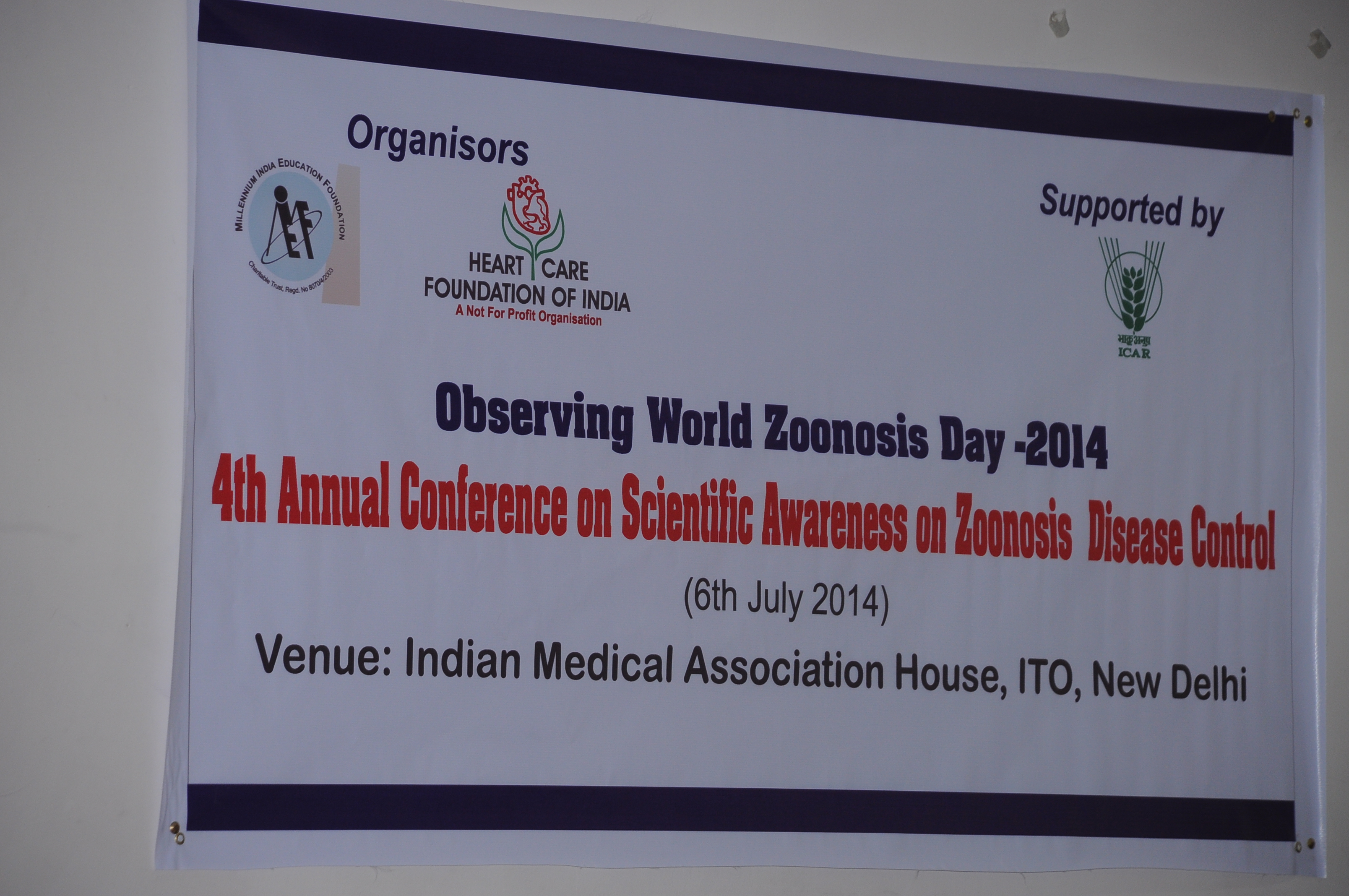 Some of the highlights from this year's conference were as follows:
Inaugurating a daylong conference on Zoonotic diseases control on the eve of World Zoonosis day 2014, Prof M L Madan said that Zoonosis should be a separate subject in the medical curriculum in all pathies like MBBS, Homeopathy, Ayuerveda, Unani etc. 

Prof. Madan is credited with having produced world's First In-vitro fertilized (TEST TUBE) Buffalo calf "PRATHAM" and innovated this technology among bovines for which he has received worldwide scientific acclaim.

In his welcome address, Padmashri, Dr B C Roy National Awardee and DST Science Communication National Awardee and President Heart Care Foundation of India Dr K K Aggarwal said that humans are usually an accidental host that acquires disease through close contact with an infected animal, who may or may not be symptomatic. Children are at highest risk for infection because they are more likely to have close contact with pets. Dr Aggarwal said that pets are responsible for transmission of an extensive array of bacterial, fungal, and parasitic zoonotic pathogens. The route of transmission can be through the saliva (bites or contaminated scratches), feces, respiratory secretions, direct contact, or by the animal acting as a vehicle and source of tick or flea exposure. Although pets have been implicated in transmission of zoonoses to their owners, risk of transmission from contact with pets is low and may be further reduced by simple precautions.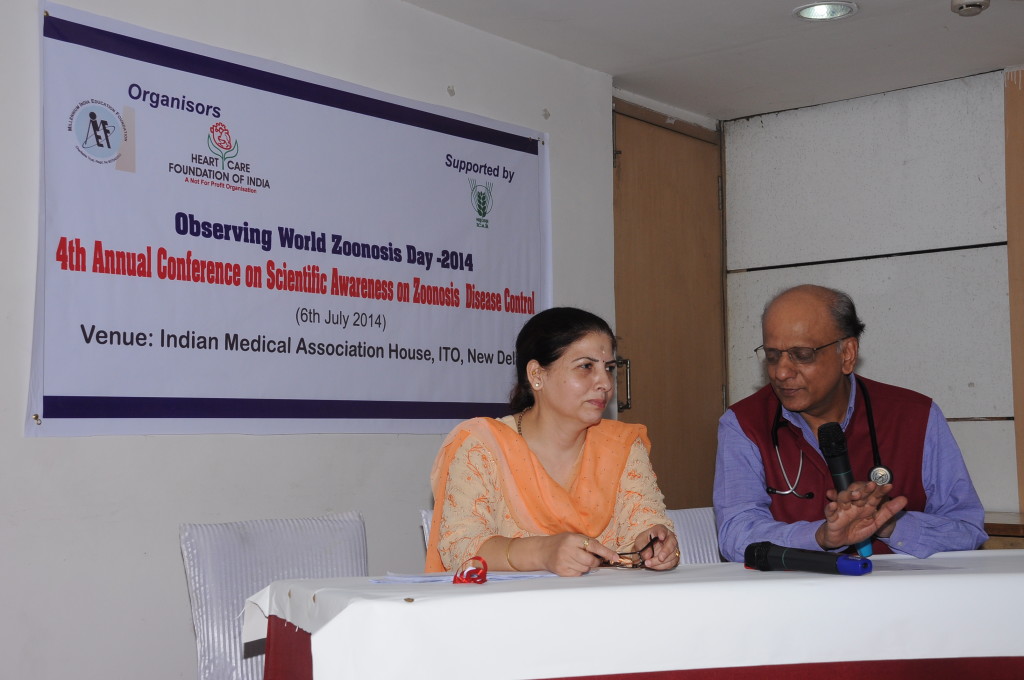 Speaking on the occasion, Dr Uday Kakroo Director Millennium India Education Foundation & Advisor Heart Care Foundation of India said that outbreaks of diseases communicable from animals to human commonly referred to as Zoonosis, have been traced to human interaction with and exposure to animals at fairs, petting zoos and in other settings. In fact for many human diseases the human is actually an accidental victim and dead end host. Elaborating on it Dr Kakroo said that of 1415 human pathogens 868(61%) originate from animals and many of them have established in humans.
Guest of Honor Dr A C Dhariwal Director National Vector Borne Disease Control Ministry of Health & FW Govt of India said that animals are playing vital role as carriers of many Vector borne diseases like Japanese Encephalitis where pigs are carriers of JE Virus etc. and adoption of common preventive measures at both veterinary and medical sectors are need of the day.

Experts who spoke on different diseases of Zoonotic nature included: Dr P K Uppal; Dr M P Yadav; Dr Lal Krishna; Dr A K Bhatia; Dr P P Gupta; Dr Jyoti Misri; Dr Shoorvir Singh Yadav; Dr Baldev R. Gulati; Dr Rajinder Kumar Bhardwaj and Dr Rishendra Verma.
We will continue to share more details that the experts shared in following posts on the website!
Till then, be aware and keep safe!