A 5-day exhibition of art works (paintings, sculptures and photographs) made by artists from Jammu & Kashmir was organized at Arpana Art Gallery, Siri Fort, New Delhi, between 23-27th March 2014. As the event culminated, we have some more images and thoughts to share with you.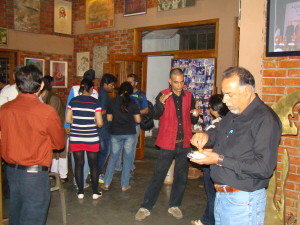 The opening function was attended by more than 300 eminent people from all walks of life including art lovers. This is for the first time that such a large number of artists from J & K state participated in a group show in the country. Welcoming the artists  and guests, Dr. Uday Kakroo, Director Millennium India Education(MIEF) New Delhi and organizer of this show, said that objective of this show is to provide a platform for the artists of J&K to exhibit their works and also facilitate them market their works. Speaking further Dr. Kakroo said that efforts will be made to facilitate and help these artists generate some income through sale of their works. It is for the 2nd time that MIEF has held such a show to promote artists from J& K state.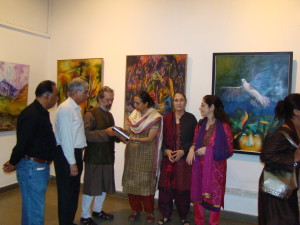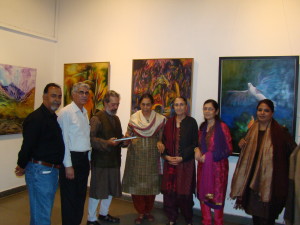 Besides the exhibition, MIEF is also promoting another very important aspect of J&K's art and culture hidden in the manuscripts written in Sharada script and which has now become almost extinct. MIEF has joined hands with Jawaharlal Nehru University, New Delhi to revive Sharada script through capacity building and e-digitization of manuscripts written in this script which would be very useful in interpreting and understanding art and cultural traditions of Kashmir. Part proceeds of sale of artworks will also be used as funds for revival of Sharada script.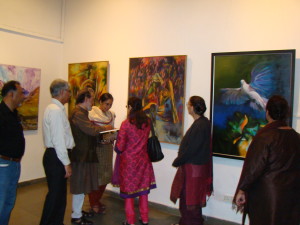 Rich tributes were paid to well known artists from Kashmir Sh. P.N. Kachru and Gyaoor Ahmed who passed away in the preceding year. Veer Munshi, Chief M/s Veer Munshi Art Initiatives, joint organizer of this event, while paying rich tributes to the great artists, said that artworks of all these artists who have taken part in this exhibition would be displayed in a virtual gallery on www.mief.in website to promote and market them in the coming months. These images thus, are a first step into the virtual images from the show, after yesterday when people of J&K celebrated the Navreh-beginning of a new year.
The project is supported by Ministry of Culture, Govt. of India.